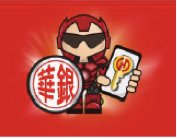 Keypasco are happy to announce that Hua Nan Commercial Bank (HNCB) in Taiwan is deploying Keypasco's patented authentication solution to secure their mobile banking and Internet banking services for all 6,3 million customers.
"Our 隨行保鑣 (Mobile Guardian) offers our customers a user-friendly and secure mobile banking/Internet banking service through a mobile app. No more hardware tokens needed when travelling abroad, and our customers can always access our financial services no matter where or when through their mobile phones, and without expensive mobile roaming. With the introduction of many new innovative personal wearable devices, using the personal wearable device as part of your own security is the trend, and Keypasco is at the forefront of this trend and development. Keypasco solution with its unique patented device authentication, two-channel structure, proximity and central-stored PKI offers a complete mobile multi-factor strong authentication for our needs, both today and in the future. We are step-by-step going to introduce our new financial services, which is possible with the Keypasco solution," commented Mr. Hsu Ber-Lin, Senior Vice President & General Manager at HNCB.
Mr. Maw-Tsong Lin, Founder and CEO at Keypasco, commented: "I am happy to see this moment – it´s a dream and a strong belief that have come true. The largest difference between our mobile security solution and other looks-alike mobile solutions

is that we use a revolutionary and innovative technology (patents approved) while others still only use traditional technology wrapped in a new shell. Our solution offers our customers possibilities to create new services that were not possible before. It is going to be a natural part of our daily life."
Mr. Chengi Lin, CEO at Lydsec Digital Technology (Keypasco's partner in Taiwan), tells us: "It's not easy to be a pioneer, not for Lydsec, Keypasco or HNCB! But when we think back at all success stories there is within PC, Mobile phones, and the Internet etc. in the last 30 years it is those new-thinking courageous pioneers that has changed the world into what it is today. The Internet security industry has gone through the same development; hardware token in different forms has been available for decades, but it's been proven to be not good enough and is only affordable for a few.
Today we have several Banks and Online Services Providers in the pipeline to roll out the Keypasco solution – this is only the beginning of a new era within the IT security industry, and we are proud to be a part of it!"
About Hua Nan Bank
The company was founded in 1919 and is headquartered in Taipei, Taiwan. Hua Nan Commercial Bank, Ltd. is a subsidiary of Hua Nan Financial Holdings Co., Ltd. The company offers demand deposits, time deposits, and deposits by other financial institutions; various loans; and electronic banking and domestic remittance services. As of December 31, 2013, they are operating 186 branches in Taiwan, 1 offshore banking unit, 9 overseas branches, 1 overseas sub branch, and 1 overseas representative office.
Liao, Zhong Chiang (廖仲強)
+886-2-2371-3111 #1807
Lydsec
Liability, Young, Diverseness, Service, Eagerness and Creation are the key values of Lydsec. We are keen to develop security, fun and interacted platforms and services within online services and IoT. In 2012, we introduced the Keypasco solution to offer a convenient, high-security, and low cost well-rounded answer to the innumerable security threats thus manifesting a safeguarded internet environment for all users.
Lydsec Digital Technology Co., Ltd.
Cindianne Lin
+886-2-8789-3366 #158, +886-972-931-267
cindianne@lydsec.com
Keypasco
With more than 20 years of individual experience in IT security, Keypasco's founders are the minds behind some of the revolutionary multi-factor authentication technology solutions used today. We deliver on society's expanding needs for personal authentication services, identity protection, and secure tasks. Keypasco's vision is to be a leading vendor of online secure authentication. For more information, visit www.keypasco.com, email info@www.keypasco.com or contact us at +46-31-102360.
Anna Zetterholm
+46-72-201-5872, +46-31-102364
anna@www.keypasco.com

Link to the official english PDF version of the press release.
Länk till det svenska pressmeddelandet.