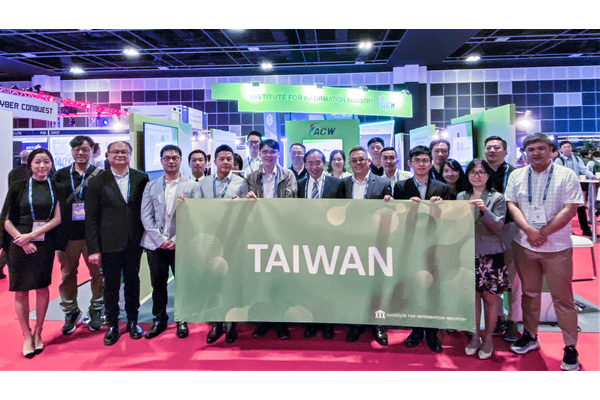 In order to improve the communication of domestic Info Security vendors with each other and strengthen international cooperation, the Institute of Information Industry with the support of the Industrial Development Bureau (MOEA) has selected twelve outstanding Taiwanese Info Security vendors to join the Singapore International Cyber Week from the 1st to the 3rd of October, 2019. Creating a Taiwanese brand image on the info security exhibition should assist the info security industry to enter both, Southeast Asian and International markets.
The 2019 SICW is taking place from the 1st to the 3rd of October at Suntec Singapore Convention & Exhibition Centre. The theme of this year is "Partnerships for Trust and Confidence", which emphasizes international and regional cooperation in order to strengthen the establishment of a trustworthy and secure information security environment.
There are a total of twelve Taiwanese info security companies , namely EQ Information Technologies Inc., Arcran Inc., Datiphy Inc., Onward Security, iMobile Mind, Team T5 Inc., L7 Networks , Lydsec Digital Technology, ThinkCloud Technology Co., Ltd., N-Partner Technology Ltd. Co., XCome Technology, KeyXentic Inc. which were present at the Taiwanese Info Security solution exhibition area. The area was set up by the Institute of Information Industry and also had a special area for the sponsors, N-Partner Technology Ltd. Co., specialized in effective data collection as well as artificial intelligence analysis technology and Onward Security who are specialized in source code scanning, Vulnerability Assessment, Penetration Test, security consultation and educational training related to info security.
HERCULES SecDevice, an info security test for networking facilities, researched and developed by Onward Security, won two types of innovative product awards in "IoT Security" and "Industrial Control Security" at the Global Excellence Award 2019 from the Info Security Products Guide.
"N-Reporter" and "N-Cloud" from N-Partner Technology Ltd. Co. was produced by using multiple big data and AI innovated development technologies. It can carry out the correlation analysis between Syslog and Flow by combining the data and event, allowing IT managers to stay on top of the details concerning subordinate internet.
Furthermore, IoT info security product iSecMaster from Arcran Inc., database info security solution for databases from Datiphy Inc., Information Security Management platform tools Finika and Uila from EQ Information Technologies, Inc., ISAI cross-system integration and info security protection cellular data platform from iMobile Mind, KX906 intelligence info security hardware token from KeyXentic Inc., info security management solution InstantCheck and InstantQoS from L7 Networks, online identity authentication solution Keypasco from Lydsec Digital Technology, info security protection platform ThreatVision and ThreatSoner from Team T5 Inc., Selfie Video Signature solution SelfieSign from ThinkCloud Technology Co., Ltd.,mobile device and service info security management solution EMMMDM from XCome Technology are also all well-reputed.
The International Group of SICW, who is responsible for the organization and implementation of the event this time, said that there are more than 8000 important executive decision makers in the field of info security all over the globe attending this annual event, making it an important international platform for the info security industry. This time the twelve Taiwanese info security vendors with their products have strengthened the image of the Taiwanese info security industry. In the future, the Institute for Information Industry will continuously assist Taiwanese info security vendors to enter the international markets in order to expand the branch of the Taiwanese info security industry. Furthermore the Institute for Information Industry will support security start-up companies through networking, making it easier to invest in related technology development, easier access to talented employees and narrowing the cash flow gap in the future in order to establish a sustainable industrial environment and to further build up Taiwanese info security brands.