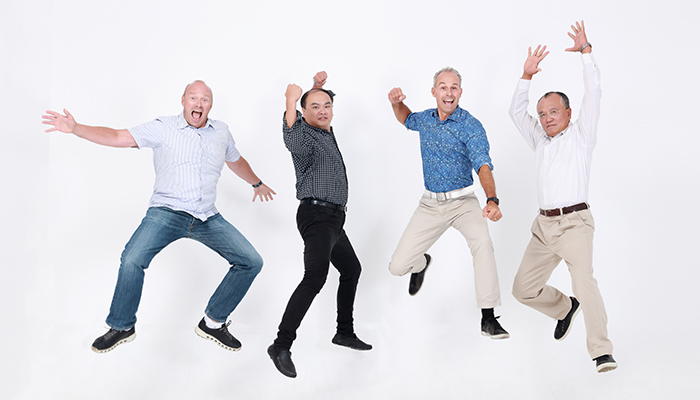 The Taiwanese tech company Lydsec Digital Technology Co., Ltd. acquires the online security business of Swedish security company Keypasco AB. The two companies have been partners since 2012 and this is the natural next step towards a stronger brand and continued strong product development.
Lydsec Digital Technology, based in Taipei, Taiwan, has a long history of providing state-of-the-art security solutions to their customers in Taiwan, including the Keypasco Solution. The solution has been a huge success in Taiwan and Asia with several banks and other companies already using it to secure their digital services. Therefore, with the majority of customers based in Asia, it is the natural next step to acquire Keypasco's brand, technology, products, and patents to gain even more leverage to expand more rapidly.

"We are very happy to acquire Keypasco security business, and they have a really strong solution that we have provided to our customers since the introduction of Keypasco online security solution. By bringing it closer to us we can develop it even further to fit in with our customer's needs. This is the perfect opportunity for the solution to expand into new market segments."
Cheng-I Lin, Founder & CEO of Lydsec Digital Technology
A Secure Portfolio
Lydsec's current portfolio includes several other technologies, all aimed at making online solutions secure and at preventing unauthorized access to digital assets. Among them the new exciting way to encrypt files on your mobile to secure any personal information stored on your device. Integrating the Keypasco Solution into that already strong portfolio will have several advantages.

Lydsec has a solid knowledge of the Keypasco Solution and also great experience from significant payment solutions like WeChat pay. This combination will open up for more innovative solutions in the future. By being able to provide first line support of the product, Lydsec can develop it even further to fit in with the customer's specific requirements. The strong bonds and support between Sweden and Taiwan will remain and complement the technical ability and expertise Lydsec already has.

Keypasco – A Long History in the Security Business
Keypasco was founded in 2010 and the first commercial product was launched in 2012 when it was first put into operation on a larger scale in a live environment. Since 2016, after a period of refinement of the product, Keypasco has rapidly expanded to over 2 million active users, most of which are located in Taiwan. Among the customers are banks, and other companies that require a state-of-the-art security solution.
"As the patent inventor of Keypasco device printing technology, having built up a company, that thanks to its innovative technology, now has over 2 million active users, it feels great to be able to retire with the assurance that the solution will live on and together with Lydsec get the potential to secure all of the world's online services at an even faster pace."
Maw-Tsong Lin, Founder & CEO of Keypasco
Concern for online security, personal integrity, GPDR regulation etc. all make IT security a fast-growing industry, Keypasco device-based security solution shows the way how to meet the challenges and demands from the market!
To learn more, please visit www.lydsec.com or contact;
Cindianne Lin, cindianne@lydsec.com, +886-2-23463366